The Silvers Add a Gift in Their Wills to Their Charitable Action Plan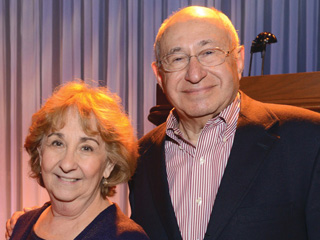 Sandra and Robert Silver
Robert S. Silver first got involved with WTTW more than 40 years ago, working on the fundraising auction, and he has been a supporter ever since. The current board member and his wife, Sandra, have added a bequest gift in their wills to make sure their support continues in perpetuity.
The gift in their charitable action plan is to the endowment fund for unrestricted use.
"WTTW and WFMT are very important to life in Chicago and produce great programming that serves the community well," Silver said. The retired certified public accountant added that he believes "the organization is very well run."
In addition to being on the board of trustees, Silver is a member of the WFMT Radio Network Committee.
"I volunteered to work on the WTTW auction, and now I have been involved with WTTW and WFMT for more than 40 years," he said.
Robert and Sandra live in suburban Northbrook, Illinois, and have been married for 52 years. They have two children and four grandchildren. Silver earned a Bachelor of Science in Economics from the University of Pennsylvania Wharton School of Business and an MBA from the University of Chicago.
Silver urges other viewers and listeners to get involved by volunteering and donating. He said that making a legacy gift in addition to annual contributions "enhances and strengthens my involvement with the organization."
"Working with my fellow board members and staff has become a very important and very rewarding part of my life," Silver said. "The organization provides a very important service to the Chicago community."
Back
© Pentera, Inc. Planned giving content. All rights reserved.