Jane Hotchkiss Makes Gift in Will in Thanks for Years of Classical Music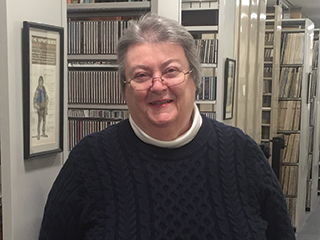 Jane Hotchkiss

Longtime WFMT volunteer and supporter Jane Hotchkiss has been involved in some kind of musical organization since she joined her church choir at the age of 8. Singing was the beginning of Jane's love for classical music. She sang Bach's first cantata for Easter, Christ lag in Todesbanden in her first year of high school. She was a "second alto from the word go" and focused on classical music more than any other kind. Jane is a graduate of Concord Academy, where she was a member of glee club and choir. She attended Beloit College and sang in the choir there all four years. After graduating, she continued on her musical path and joined the Apollo Chorus of Chicago in 1975—singing there for 13 years.
Jane has been an avid WFMT listener since 1973. In thanks for all the music it has provided, Jane has named WFMT as a beneficiary in her will. "There isn't any other place that provides the classical music experience over the airwaves in Chicago," she says. "I want to help ensure that WFMT programming continues well in to the future."
Jane is a member of WFMT's Folkstage and also volunteers for membership drives. "It's fun to see the people you have gotten to know through pledge drives and Folkstage performances," she says. Jane encourages all classical music fans to support WFMT. "I can still hear Ray (Nordstrand, former WFMT General Manager and President) saying 'go out and hear some of these things live.' We have to focus on what is happening musically in Chicago."
Back
© Pentera, Inc. Planned giving content. All rights reserved.