Robert Sypniewski Supports Future Programming by Naming WTTW and WFMT Beneficiaries of His Estate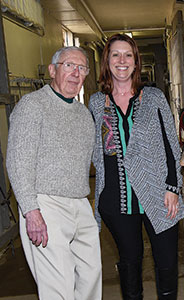 Robert Sypniewski gave WTTW and WFMT's Kathy Kielar a tour of the Brookfield Zoo, including a chance to feed a rhinoceros, after announcing his plans to name the two stations and the Zoo as the co-equal beneficiaries of his estate.
As a lifelong educator Robert Sypniewski deeply appreciated the quality programming available on WTTW and WFMT, which is why he specified in his trust that each station would receive one-third of his estate through the Robert and Patricia Sypniewski Charitable Trust.
Robert and his late wife Patricia were teachers who lived on one salary while investing the other. In retirement, they converted a box truck into an RV and traveled the country for years before Patricia developed Alzheimer's disease. Robert would spend the next two decades caring for his wife at home before her death in 2007.
The couple loved WTTW and WFMT programming, especially travel and cooking shows, which is why Robert announced in 2013 his plan to name the stations as beneficiaries of their trust. To make his intentions clear to everyone involved, he called a meeting of his estate-planning attorney, his financial advisor, and WTTW and WFMT's Vice President of Development Kathy Kielar to finalize his plans.
"Robert enjoyed on-air recognition in honor of him and his wife for many years before he passed away in 2021," says Kathy Kielar, Vice President of Development at WTTW and WFMT. "We will continue to honor Robert's memory with on-air recognition for the next few years. With his deep passion for our mission and careful financial planning, he really has made a difference at WTTW and WFMT."
Back
© Pentera, Inc. Planned giving content. All rights reserved.